Some people like to dictate every nuance of their climate, from humidity to temperature.
Some like to tinker with timing. Some like to specify preferences in eight different rooms. The unrivaled capabilities of the Infinity control represent the highest degree of comfort management. This communicating control is designed exclusively for Infinity system products and is the brains behind the ultra-efficient Carrier variable-speed and multiple-stage Infinity Gas Furnace systems. These provide various diagnostics and data-tracking for your home, multiple zones, and connectivity with wireless devices.
---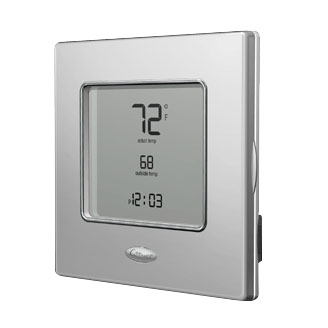 An outstanding and robust Digital Programmable thermostat that can work with any Furnace make or model, the Edge Series thermostats sports a slim, low-profile design with seven faceplate color options. It provides control for heat pumps, humidity control systems, air-quality/filtration systems, and aggregate airflow, as well as cooling systems, and boasts a wide range of easy-to-trigger modes such as Vacation mode and Day-at-a-glance 7-day, up to 4 periods per day programming. Large, illuminated display shows inside and outside temperatures and time. Timed filter, UV lamp and/or humidifier panel replacement reminders.
---
The Nest: Wifi, iPhone, iPad Thermostat
Pioneer Gas Furnace has been providing the Nest Thermostat for Portland Oregon Gas Furnace installations for a few years now, and is enthusiastic about these types of thermostats, which can integrate with WiFi, and be controlled by iPhones, iPads, and other tablet-devices. Pioneer has found that actual customer-experiences with the Nest have been mixed, and that other thermostats which provide similar features may integrate with some furnace installations better. Talk to your Furnace professional about the right thermostat for your needs.
---