What is the HYBRID HEAT dual fuel system by Carrier?
It's Heating & Cooling Comfort for Portland Oregon homes!
Save money with a high-efficiency installation by your Portland, Oregon authorized Carrier contractor: Pioneer Gas Furnace! The Carrier HybridHeat System combines a Carrier Infinity 96 gas furnace with a Carrier Infinity 19 heat pump to provide soothing, superior comfort during both heat pump and furnace operation. This powerful combination can deliver heated air temperatures that are warmer than most traditional heat pumps so air from your Portland, Oregon home heating system vents feel warmer to the touch.
High efficiency for home heating AND home cooling!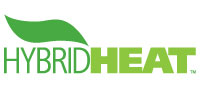 Carrier Hybrid Heat dual fuel systems deliver exceptional performance by using a heating source that provides its most energy-efficient comfort during moderate heating conditions. As the temperature drops outside, the system automatically switches to your second heating source when that becomes the most economical way to keep your Portland, Oregon home comfortable.