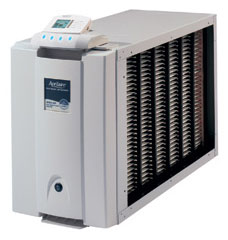 The Aprilaire Model 5000 Whole-Home Electronic Air Cleaner has been rated #1 three years running by a leading products ratings magazine for some very good reasons: It electronically charges particles and traps them like a magnet better than any other air cleaner – using 72 square feet of Aprilaire-branded filtering media. The Model 5000 is tried, true, and tested – delivering the highest efficiency possible. Installed by your Portland, Oregon Pioneer Home Comfort HVAC professional as part of your central heating and cooling system, the Aprilaire Model 5000 Electronic Air Cleaner can help give you the cleanest, healthiest air in every room of your home.
Traps 99% of airborne pollen, mold and spore-sized particles
Eliminates 98% of airborne bacteria-sized particles
Removes 94% of respirable dust, dust which the EPA reports can trigger asthma
Captures 80% of airborne particles the size of tobacco smoke
Removes up to 80% of airborne virus-sized particles-something no other air cleaner in the industry can do!
Easy to maintain—the 5000 requires infrequent replacement of filtering media and wiping down of ionizing wires—a process that can be completed in less than 20 minutes
Unlike competitive electronic air cleaners there is never a need for the frequent and time-consuming cleaning or washing of collector cells.
Contact a Pioneer Gas Furnace specialist to determine if the Aprilaire Model 5000 Electronic Air Cleaner is the right fit for your Portland, Oregon home heating & cooling system.